Uncontested Divorce
Little Rock and Helena, Arkansas

Spouses who jointly agree to dissolve their marriage can enter into an uncontested divorce proceeding. This happens when the parties have no issues with regard to the division of property and have already decided how to handle custody and visitation of children. However, even with uncontested divorce, there are still plenty of procedural requirements under Arkansas law, and parties should still seek separate legal counsel. Knapp Lewis is a full-service law firm in Little Rock,
Arkansas that can provide you with the kind of experienced representation that you need if you have reached an agreement with your spouse to dissolve your marriage.
In an uncontested divorce proceeding, the parties do not have to present any evidence to the court aside from the agreement by the parties and satisfy the filing and documentation requirements. With these cases, one party files the agreed-upon divorce petition along with a waiver of service of process on the part of the other spouse. Nevertheless, even in uncontested divorces, the parties are still required to wait for the standard thirty-day period before a court will approve a divorce decree.
Most of the time, the court will not require both parties to appear in court in an uncontested divorce if all the required documents and waivers have been executed and filed in advance. If a final hearing is required by the court, usually it is for verification purposes for evidentiary issues such as establishing residence in Arkansas and in the county of filing, verification of agreement by both parties as to the terms of the final divorce decree, and that the parties do not expect to reconcile. Notably, Arkansas law requires parties to live in the state for sixty days if they do not have children. If they do have children, then the residency requirement may be longer.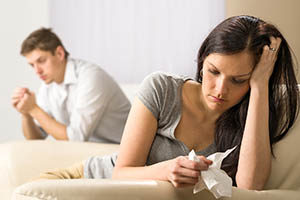 Arkansas usually requires that a party asking for a divorce prove grounds, except when the parties have been separated for eighteen months or more. If you are contemplating divorce, even if uncontested, you should speak with an experienced attorney right away.
The attorneys at Knapp Lewis in Little Rock can provide experienced and compassionate representation and have helped clients in Arkansas with divorce matters.
Even if your divorce is uncontested, there are still plenty of procedural pitfalls that may delay the completion of your divorce if you do not consult with an attorney before moving forward. You may contact us for a free initial consultation by calling (870) 338-3100.