Truck Accident Lawyers
Little Rock and Helena, Arkansas

Large truck accidents often result in serious bodily injuries and fatalities simply because of the sheer size of the vehicles involved. Additionally, the consecutive hours of work can cause commercial truck drivers to be fatigued, thereby increasing the risk of serious accidents. Because of the highly competitive nature of the trucking industry, and the rising consumer demand for overnight shipments, this may cause trucking companies to cut corners and make unreasonable demands on drivers or forego required maintenance on trucks. This, in turn, can cause more accidents down the road.
If you have suffered injuries due to an accident involving a large truck in Arkansas,the truck accident lawyers at Knapp Lewis can help you properly investigate your case and obtain financial compensation for your injuries.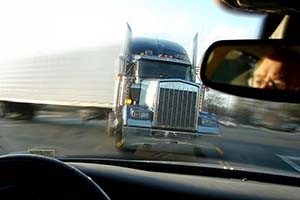 The Federal Motor Carrier Safety Administration (FMCSA) conducted a collision fatalities study, which showed that commercial vehicles are overrepresented in the total number of crashes nationwide. Large trucks and buses are involved in about four percent of the total number of registered vehicles and nine percent of total miles driven, but were involved in thirteen percent of accidents and thirteen percent of overall traffic deaths. According to data gathered by the National Highway Traffic Safety Administration (NHTSA), there were 3,806 crashes in 2013 across the United States involving a large truck or bus. These crashes resulted in 4,251 fatalities. Of those deaths, only 739 or seventeen percent were occupants of the truck or bus involved. 3,512 of the large truck crash deaths were people in passenger vehicles or motorcyclists.
Truck driver tiredness and fatigue often plays a large part in causing large truck accidents. According to the Department of Transportation, truck drivers that work long hours have much slower reaction times and have a reduced ability to assess situations properly if they do not get enough rest and recovery time. Also, truck drivers are unable  to assess their own fatigue levels properly and fail to adjust their performance accordingly. Trucking companies have a duty to provide drivers with the tools they need to perform well, which includes ensuring that work conditions do not encourage fatigued driving. If an accident happens and it is shown that the trucking company failed to provide the driver with adequate information, training, and supervision, the company may be liable.
If you or a loved one has suffered injuries due to a commercial truck accident in Arkansas, you should contact the truck accident lawyers at Knapp Lewis immediately for assistance in obtaining compensation for your injuries.
Our attorneys have extensive experience in personal injury issues and will aggressively pursue your case.
You may contact us for a free initial consultation by calling (870) 338-3100