Contested Divorce
Helena, Arkansas

Divorce can be a very emotional process for the parties involved, especially if the divorce is contested. It also involves a host of legal issues that can make it an excruciating process for those involved. When the parties do not agree on issues such as the division or property, custody of children or visitation rights, and spousal or child support, you need someone by your side who can compassionately advocate for your interests in the divorce proceeding.
Knapp Law Firm is a full-service law firm in Helena, Arkansas that can provide you with the kind of experienced representation that you need if you are facing contested divorce proceedings.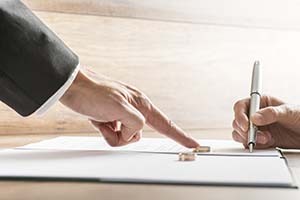 If a divorce is contested, then the first step is the filing of the complaint for divorce. The complaint is drafted by the filing party, which should outline the contested issues and facts in the case. Before filing the complaint, the filing party should consider if a temporary hearing should be requested to address temporary issues such as child support, child custody and visitation, possession of the marital home, and marital debts, among others. Some of these issues should be addressed in the interim to protect the parties' interests before a final divorce decree is issued.
once the divorce has been filed, the circuit court then issues a summons to provide notice of the divorce suit and the right of the opposing party to file an answer within thirty days of being served with the summons. If the opposing spouse does not file an answer, a default judgment may be sought and granted by the court against him or her.
Parties also have the option to enter into formal or informal mediation to work out issues in the case and try to settle the whole case or individual issues. During mediation, an independent third party mediator oversees the discussions. If the parties agree on terms, then a mediated settlement agreement will be drafted by the mediator for the parties to sign. If it resolves all issues in the case, then the agreement can form the basis of the final judgment or final divorce decree. If the parties can't reach a fair settlement, then the case can go to trial, and all of the issues will be decided by the circuit court judge.
If you are contemplating divorce and believe that there will be contested issues with your spouse, you should speak with an experienced attorney right away.
The attorneys at Knapp Law Firm in Helena, Arkansas can provide experienced and compassionate advocacy and have helped clients in Arkansas with contested divorce matters.
You may contact us for a free initial consultation by calling (870) 338-3100 now.